Unless we're talking domes designed to very closely match the hemisphere of the combustion chamber, they won't affect squish.

The easiest squish to get on a Norton twin is by using the flat stepped area. Yes the stock head creates turbulence, but it tightening up the gap in the stepped area gets a nice bit of squish too.

Personally, I am convinced of the benefits of squish due to running a tight squish (approx 0.040") in my 920, which runs 11:1 cr, without issue, on pump fuel.
The domed piston below has the tight squish band close to .040" (fine tune from there). The dome is only 5mm tall. The combustion chamber is approx 22mm deep. There is still plenty of room for fuel efficiency. When you have 15mm high domes as on a Triumph - how much fuel efficency are you losing then? Do Triumphs get poor fuel milage due to unburned fuel? - be honest. Yes the small round combustion chamber is best. But don't forget that the highest HP 2 valve motorcycle engine is the HD XR 750 with pistons that are highly domed as shown in the photo at below.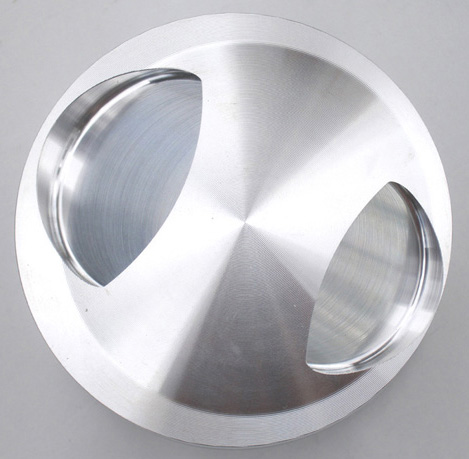 High dome HD XR750 piston
There is a problem with jacking up the crown for more compression and keeping the top flat - the crown gets thicker as the pockets get deeper ending up with a heavy crank breaking piston that inhibits flow by shrowding the valves with those deep pockets such as shown with the Omega short stroke piston and its huge dome trying to make compression with the large fully hemisphered dome of the Norton factory short stroke as shown below.
All things considered a slight dome is the best option if you're trying to get more compression because you:
1 keep weight down
2 avoid deep pockets
3 improve gas flow by avoiding valve shrouding
Compare the Omega piston to the powermax piston in post #4. The powermax is much lighter with shallower pockets (in a smaller combustion chamber) and both have about the same compression.
Fast Eddies large displacement 920 gets 11:1 with no dome at all - but actually a dish as shown below. With the tight squish band this is an ideal situation. You just can't achieve this with small a displacement Norton using the same head. So you have to do the best that you can for a given engine size.
See flat top 850 high compression below with tight squish band. Having a higher displacement the 850 flat top piston achieves over 10.2:1 compression.
Last edited: